Residential Retreats
Retreats consist of alternating periods of sitting and walking meditation, an evening talk by the teacher, and meals. There are periodic opportunities for personal interviews with the teacher during long retreats. Retreats are held in complete silence. Scroll down to see all retreats.
---
3 Night New Years Retreat
Vipassana Retreat
with Joan Staubach
Sorry: This Retreat is Full. To be put on a waiting list, call Barb Huels at (513) 542-5258.
The New Year is considered an auspicious time to practice. We offer an alternative way to spend this time of year; instead of noise, enjoy the quiet.
DATES: December 29, 2017 – January 1, 2018
LOCATION: Oakwood Retreat Center – Click Here for directions.
COST: $345
Joan Staubach is an active member and past president of Tri-State Dharma. She is an experienced practitioner of Insight Meditation. She has been practicing since 1999. She has taught and co-taught the New Year's Retreat for over 10 years, led daylong retreats, and taught numerous Insight Meditation classes. She has taken training retreats with Matthew Flickstein on Sharing the Dharma.
---
Weekend or 7 Night Vipassana Retreat
Things Change: The Buddhist teaching on impermanence
with Wendy Eisner and Helen Vantine
"Once you realize this floating life is the perfect mirage of change….It's breathtaking—this wild joy at wandering boundless and free."—Han Shan
The Buddha's last words to his followers were: "All things are impermanent, therefore practice with diligence." The Buddha used his last breath to teach what he felt was the core of his teaching. Impermanence, or "anicca", is considered the bedrock upon which all the teachings rest.
This time in history is one of environmental and social uncertainty and is rife with upheaval, which, since Buddhists like to look on the bright side, offers us a rare opportunity to fully grasp the concept of anicca. We all understand, on a conceptual level, that everything changes, but do we really "get" impermanence? One might think that focusing on change would tend to be gloomy or depressing, but that turns out not to be so: a close examination of impermanence can open us to the full potential of this precious life.
DATES: March 23-30, 2018 (or March 23-25 for Weekend Only)
LOCATION: Oakwood Retreat Center – Click Here for directions.
COST: $225/weekend – $780/7 day            Register
Registrations for the full 7-day retreat will be given priority.
Weekend retreatants will share a room.
A few retreatants staying for 7 days may have a shared room for the first 2 nights.
Those who register early for the 7 day retreat will be given priority for a private room for the entire retreat.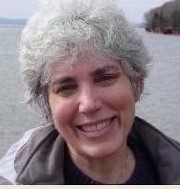 Wendy Eisner has been practicing insight (Vipassana) meditation since 2002. She is an active member and corresponding secretary of Tri-State Dharma. Co-founder and co-teacher (with Mary Ellen Landolina) of Tri-State's Northern Kentucky meditation group, she recently completed the Community Dharma Leaders program at Spirit Rock Meditation Center, California, a two-year training program for teachers in the Buddhist Theravada tradition. She has taken Matthew Flickstein's Vipassana meditation teacher training course. Wendy also has a Ph.D. in archaeology and environmental science, has done research in Arctic Alaska for over 30 years, and is professor emeritus at the University of Cincinnati, OH.
Helen Vantine, PhD has spent more than 45 years practicing meditation and studying Eastern and Western approaches to personal growth. She has studied Buddhism for the past 20 years and recently graduated from the Community Dharma Leaders Program at Spirit Rock. In addition, she is a certified MBSR instructor, a Mindfulness-Based Cognitive Therapy teacher and, more recently, a Mindful Self-Compassion teacher. In 2008 Dr. Vantine founded the Atlanta Mindfulness Institute (AMI). Since its founding, AMI has taught more than 1000 people mindfulness skills. Her mission is to help others find insight, compassion, joy and acceptance through learning mindfulness. In addition to her work at the AMI, Dr. Vantine has a private psychotherapy practice in Atlanta, Georgia.
---
From our friends in Yellow Springs
Insight Meditation Retreat
Teacher: Rebecca Bradshaw
Jesuit Spiritual Center – Milford, OH
May 4-11 or May 4-6, 2018
Click here for more information
---
It is Tri-State Dharma's mission to make retreats available to meditators from Ohio, Kentucky, Indiana and beyond. To make these retreats affordable to all who wish to attend, the fees for each retreat are slightly less than the minimum amount needed to cover our expenses. This does not take into account the scholarships that we give for almost all retreats. If you are in a position to do so, please consider making a donation to Tri-State Dharma at the end of the retreat to help us continue this work. Thank you.
Deposits are your way of saving space for the retreat. If you must back out of the retreat, we will refund half of the deposit if you cancel 6 weeks prior to the retreat. If you have paid the full amount, we will refund the balance. For our Weekend retreats, if cancel 6 weeks prior, refund is all but $100.  If cancel less than 6 weeks prior, refund is all but $200. Thank you for not asking for the full deposit back.
The cost of the retreat covers room and board and Tri-State Dharma's expenses. Meditation teachers in this tradition are able to continue their work through Dana, or generous, voluntary giving by students. At retreat's end, students have an opportunity to practice Dana by offering contributions. There is no specific contribution amount expected; give what feels right.   Please think of this as an integral part of practice.
To request a scholarship please send an e-mail or mail a letter and registration form to Tri-State Dharma. No one will be turned away for lack of ability to pay.
---
---
---